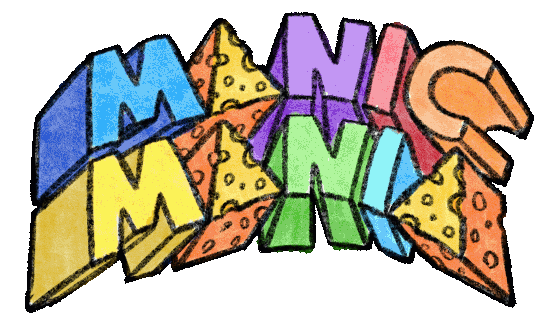 Manic Mania
A downloadable game for Windows and macOS
Through careful decision making and quick thinking, clear waves of foes with a weapon you create through a selection of upgrades. Be careful though - for every upgrade you choose for your weapon, you must also choose one for your enemies. If you choose wisely, you might find that you can create the perfect weapon to counter your enemies.
Upgrades

Upgrades are the core of Manic Mania. After each round, a selection of 3 upgrades will be offered for both your weapon and for the enemies. One from each must be chosen before progressing to the next round. Careful selection allows for very interesting combinations to be created, and every upgrade's effect stacks, but making a bad call is one of the fastest ways to fail. What kinds of combinations can you come up with?
Features:
An arsenal of 35 unique, stackable upgrades that drastically change the way you play.
Fast-paced first-person shooter combat that sees you weaving through groups of enemies with an agile dash.
Round-based progression with an optional ending, or skip it to play endlessly. How far can you go?
An entirely original soundtrack along with original sounds.
Original, hand-drawn, fully animated artwork.
This game was created for the ASU Game II Game Jam in roughly 7 weeks
We hope you enjoy!
Installation:

Windows:
Extract the contents of the .zip file into a folder of your choosing. To play, simply open the .exe file found in the folder after extraction.
Mac:
Simply download the game and rick click on it. Then click open. Sometimes a message will pop up for security reasons, using this method will allow you to play the game and ignore it.
Please note: This game is not built for mobile devices and will not run when downloaded on them! This game requires either a Windows machine or a Mac.

Warning! While this game has very few flashing lights, it may still cause reactions from individuals with an epileptic condition. Please keep this in mind before playing!
Download
Click download now to get access to the following files:
Manic Mania for Mac (ver 1.06)
180 MB
Manic Mania for Windows (ver 1.06)
177 MB